North Classroom Data Center Testing
Testing failover capabilities and processes
Jul 25, 2023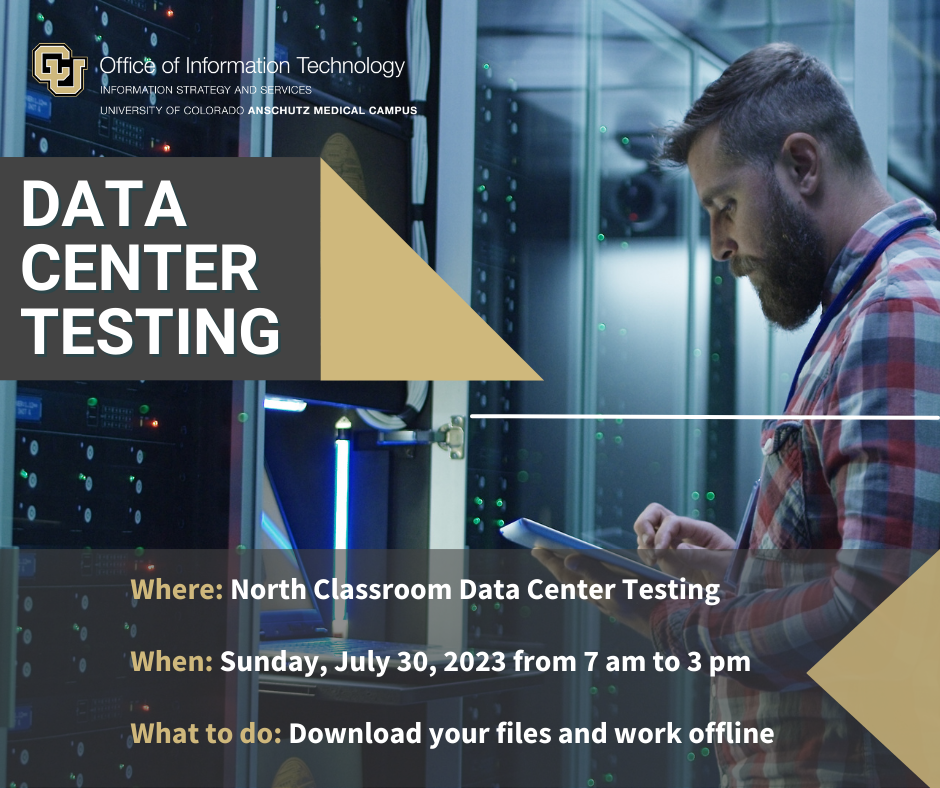 Data Center Testing
OIT, in collaboration with the IT Leaders of our schools and colleges, will be simulating a data center outage to test, verify and remediate our planned failover capabilities. Planned failover testing of the North Classroom Data Center is on Sunday, July 30th. This is an estimated 8-hour testing window from 7:00 am to 3:00 pm to evaluate system backup processes and remediate any issues that present. To test these processes, we will be simulating a network outage, but no power or devices will actually be turned off.


Technical Details
OIT will be simulating the failover by virtually suspending one of the network connections into the data center. OIT and some of our campus partners will be stationed on both campuses for our maintenance window. Our goal is to complete the exercise before 3pm. OIT will be monitoring all systems for impact, and several of our campus partners will be assisting in testing their systems.

As we seek to increase reliability across our three hosted data-centers, our goal is to test & verify failover capabilities of our campus IT services on a semi-annual basis. We are starting with the North Classroom and will be targeting the CU Anschutz data center for testing in December 2023.


What to Expect
Based on prior outage events, we anticipate several systems may be impacted during this time including multi-factor authentication (Duo). While you may not experience any service outages, for planning purposes, please assume all services will be unavailable during this window. Services that could be impacted may include (and not be limited to) Authentication, Login to Portal, Canvas Access, VPN, Duo.

We are advising if anyone needs to conduct business on Sunday, July 30th, to save your work to your desktop and prepare to work offline over the duration of the testing window. Once the test has been concluded, files can be re-uploaded or submitted to the proper university system or location.

If you typically VPN into CU Denver, please use the CU Anschutz VPN instead. You can find directions on our website here.

No impact to our Anschutz Campus Partners (UCHealth, CU Medicine, CHC) or our Denver Campus Partners (AHEC, MSUD, CCD) is expected.

Q&A Webinar
We will also be hosting a
webinar Data Center Q&A on July 27th from 12:00 pm to 12:45 pm
with our IT experts
to answer any questions or concerns that may arise before the testing date and anyone from the university is welcome to attend.
Webinar Details
Topic
: Data Center Testing Q&A
Date:
Thursday, July 27, 2023
Time:
12:00 pm to 12:45 pm
Location:
Virtual Webinar Recording
RECORDING COMING SOON