New Campus Branded Websites
OIT Initiatives Update
Mar 29, 2023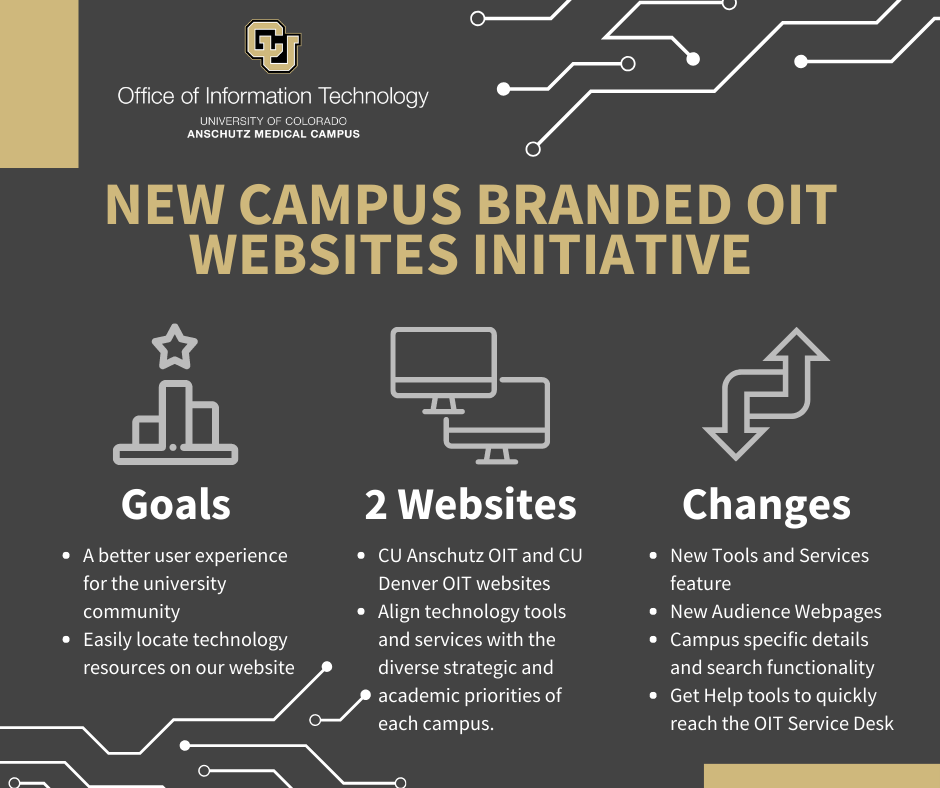 Over the last year, the Office of Information Technology (OIT) has embarked on a Website Redesign Initiative to create an enhanced user experience for the university community and an improved connection to OIT services and teams. Based on feedback and data collected from user testing and conversations with campus leadership, students, faculty and staff, we are excited to announce that we have successfully launched the new
CU Anschutz OIT website
.
These changes will help better align technology tools and services with the campus's strategic and academic priorities. In addition to separating the previous OIT website into two distinct, branded campus sites, other changes you will see include:
Audience-focused landing pages that showcase the top resources for faculty, researcher, student and staff to quickly find useful technology
Tools and Services feature to easily search a complete list of technology services, software and tools available for campus
Get Help support tools available to quickly locate technology resource help and contact information to reach the OIT Service Desk for immediate assistance
This is our first iteration of the site and we are always interested in — and listening to— feedback. We will explore ways to help ensure campus needs are met as we update and improve over time. Our new website now has a campus-specific domain so please be sure to check out and save
cuanschutz.edu/oit
for the most accurate information. Though this change is specific to the OIT website, our project teams are continuing to work on the migration of CU Anschutz emails from ucdenver.edu to cuanschutz.edu for employees who report primarily through the CU Anschutz organizational structure. More to come on progress related to ensuring our branding and how we communicate is aligned with the cuanschutz.edu domain name. If you have any questions or feedback, please email
CU-Anschutz-OIT-Outreach@cuanschutz.edu
.
Categories:
OIT - Categories

Website Management and Development

|