UIS Data Center Move
Jul 18, 2023
CU President Todd Saliman and all four campus Chancellors have approved the University Information Services (UIS) data center move from its current location to the state-of-art data center in the Anschutz Health Sciences Building (AHSB) in October 2023. Many of you have asked us about the UIS Data Center Move article that was shared in the CU Connections newsletter for faculty and staff.
The data center relocation is scheduled to begin at noon on Friday, Oct. 6, through 8 a.m. on Monday, Oct. 9. Please know that multiple teams from OIT and Information Security and IT Compliance (ISIC) are working closely with UIS and our IT partners across both campuses to determine the systems and services that will be impacted.
Why move to the AHSB data center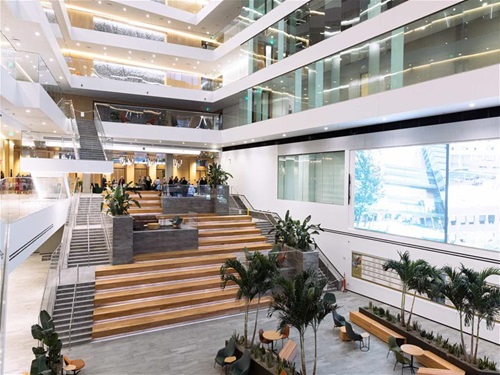 As plans progressed following the January 2019 groundbreaking of the new Anschutz Health Sciences Building (AHSB), so did planning for top-of-the-line technology that includes the more than 5,500 square foot data center. Located on the 2nd floor above the building's 64 feet wide and 16 feet tall video wall in the Benson Atrium, the data center and support systems have the proper infrastructure in place to increase current capabilities and allow for growth.
More information about the UIS data center move will be available next month on the OIT website.

Image: Anschutz Health Sciences Building Benson Atrium - video wall on the right and the data center windows above it on the 2nd floor.