Women Leaders Share What It Takes to Innovate in Healthcare
CU Innovations Hosts 'Shattering the Glass Ceiling: Stories of Women-Led Innovation'
Carie Behounek
Apr 12, 2023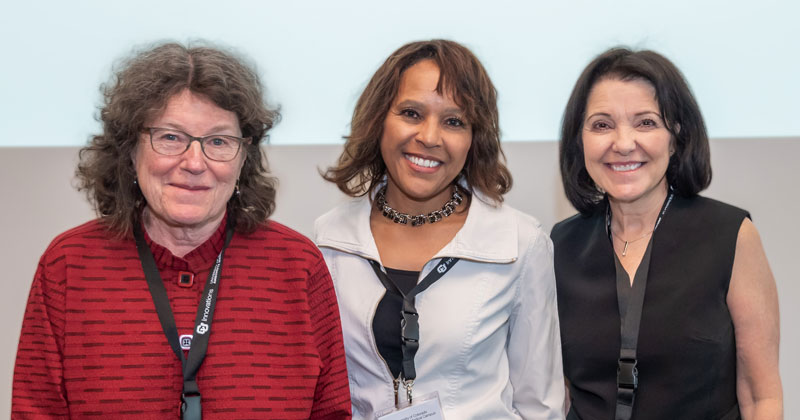 Taking what's learned in the lab and creating a viable commercial product to improve patient health is a journey many academics aspire to take yet few accomplish. At "Shattering the Glass Ceiling: Stories of Women-Led Innovation" on April 10, women scientists shared how focus, intention and a great team can assist in finding success.
Hosted by CU Innovations at the University of Colorado Anschutz Medical Campus, presenters shared their personal stories and experiences in creating innovations that impact patients by producing technologies and therapies for the commercial market. The challenges women face in this environment underscored the event, including a lack of female representation in venture capital, engineering and technology.
Attendees learned more about the drug therapies and technology advancements accomplished by the speakers. They were also given sage advice as it relates to how women can support each other and themselves in these spaces.
Key takeaways from the women presenters included:
Don't get stuck following a path you aren't passionate about.
Medical device innovator Heather Underwood, PhD, explained to attendees how it can be easy to become the roadblock on your own journey, whether that's staying stagnant in a certain department or not allowing your passion to drive the development of skill sets needed to reach your goal. "Follow interesting problems, and interesting opportunities will arise," she said.
Break out of fixed mindsets.
Neill Epperson, MD, digital health innovator and chair of the University of Colorado School of Medicine Department of Psychiatry, admitted that she was skeptical when it came to using technologies like apps for mental health. Her training and experience had always shown that human connection in psychology matters most. But she's also pragmatic about provider shortages and the mental health crisis. She shifted this mindset and found a technology partner that aligned with her values, centering the entire tech-based interaction around the human experience.
Stay laser focused.
Leslie Leinwand, PhD, is a therapeutic innovator, taking a drug from the lab all the way to market and changing the way hypertrophic cardiomyopathy is treated. In 1990, the lab identified the gene causing the "big, sick heart" that causes early death and impacts one in 500 people. The drug developed by their company received FDA approval in 2022. Throughout the three decades of their journey, they received pressure to change. "We had to stay focused on why we started the company, and we got where we are today because extreme focus was required and embraced," she said.
Get used to being uncomfortable.
Medical device innovator Robin Deterding, MD, spoke about the general unease she's observed in academic circles about the topic of money. "If your idea is going to get to patients, the company has to make money," she said. "You might care about the kids first, but the people you talk to in business care about making money. That's how you get your product to the kids who need it. So get used to it."
Let your confidence exceed your competence.
Rhonda Wallen, MS, MBA, shared an observation about how women tend to focus more on competence than confidence when presenting to potential investors. "So many women have infinite competence, but our confidence may not reflect that," she said. "The investment world is largely male-dominated, and they tend to focus on that confidence when making decisions." She reminded every woman in the room that they all already have the competence and to keep working on building that confidence.
Rely on your support system.
When asked how women hold themselves back in their career trajectory, Sheila Violette, PhD, stressed the importance of support at home. "For women in general, there will be times that you don't necessarily want to take on big responsibilities outside of home, and that's OK. It doesn't mean you can't do more later. For me, having a husband that supported my vision for life was so important."
Be realistic about the "concrete" ceiling.
Wallen spoke about how for many women, particularly women of color, a concrete ceiling can exist, stressing that this space is about not knowing what you don't know. "The only way to get through it is to be confident that you know what you're talking about, you're trying your best, and you're well-prepared. You need to be extremely congenial, so you attract people to you who know your value and potential."
Value relationships.
From mentors to building the right team, each presenter focused on the difference the right relationships make. They also stressed valuing one's self, including knowing when it's time to move on. "If you find yourself surrounded by people that question your abilities and underestimate you, you should get out of that environment as soon as possible. Find a place where you're loved and where people can see your potential," Violette said.
Categories:
CU Innovations

|
Tags:
#CUAnschutz
#CUInnovations
#womenledinnovation