Shingles Strikes a Nerve
Journal of Infectious Diseases Features CU Anschutz Research on the Varicella Zoster Virus
Rolfe Bautista | CU Innovations
Oct 14, 2019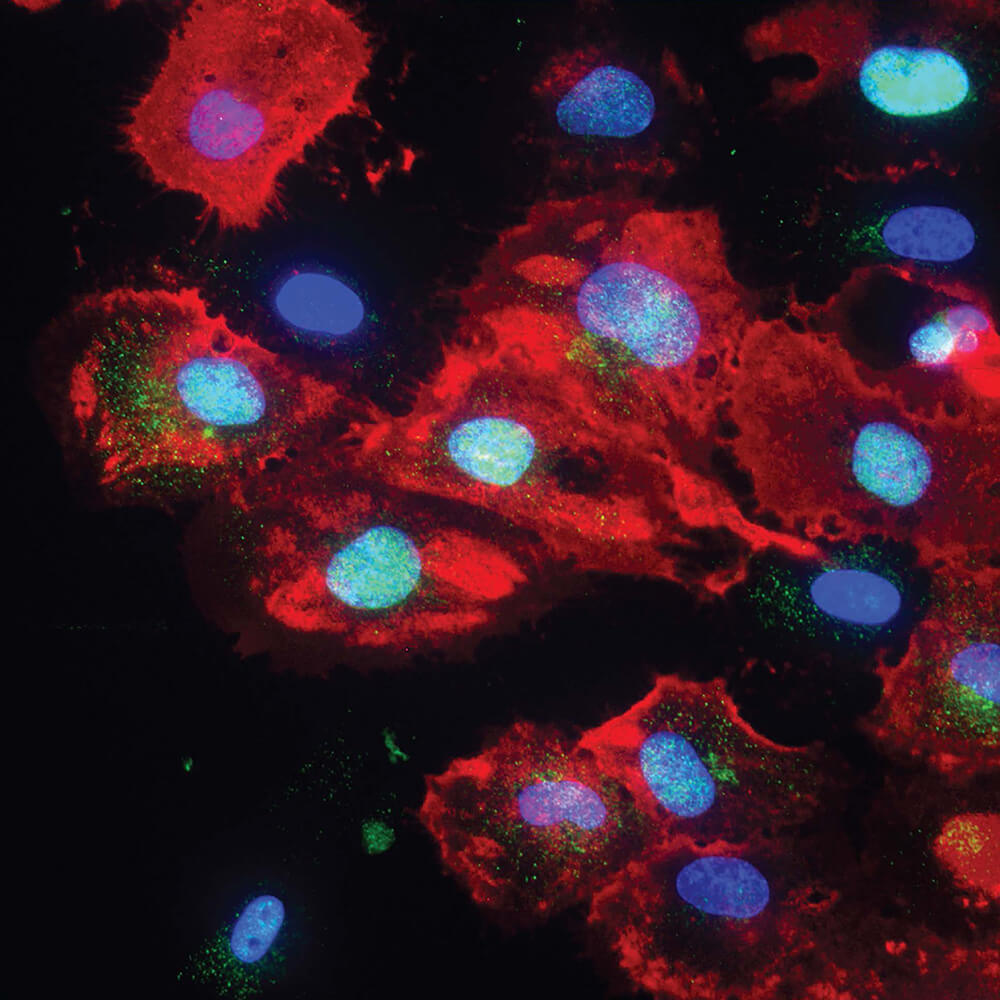 Researchers at the CU Anschutz Medical Campus discovered how the shingles virus spreads by influencing protein levels that deteriorate cell barriers.
The November 1st issue of the Journal of Infectious Diseases features a major article titled, "Varicella Zoster Virus Alters Expression of Cell Adhesion Proteins in Human Perineurial Cells via Interleukin 6". In this article, CU Anschutz researchers explore the effects of shingles on the connective tissue surrounding nerve cells that allow the virus to travel through nerves and infect the surrounding cells.
The shingles virus, varicella zoster virus (VZV), lies dormant in over 95% of Americans and becomes active for over 50% by age 85 causing a painful rash that appears as a single stripe of blisters wrapping around the left or right side of a person's torso. Shingles also increases the risk of stroke as it spreads by damaging the arteries. Finding the cause and cure for the spread would help prevent other future medical complications associated with the virus.
To determine how shingles travels through nerve cells, researchers examined both mock- and VZV infected primary human perineurial cells (HPNCs) for alterations in the cell proteins claudin-1, E-cadherin, and N-cadherin. Analysis of the VZV-infected HPNCs showed changes in the expression of cell proteins and an increase of interleukin 6 (IL-6) that is similar to epithelial-to-mesenchymal cell transition. This process could explain the loss of perineurial cell barrier integrity allowing the spread of the Shingles virus to neighboring cells.
The study found that administering an anti-IL-6 receptor antibody prevented shingles from disrupting and deteriorating the perineurial cell barrier. By maintaining the cell barrier the spread of the virus from the nerve cells can be prevented.
Read the complete paper published in the Journal for Infectious Diseases.
Meet the research team
Authored by CU Anschutz researchers Anna M. Blackmon, Christina N. Como, Andrew N. Bubak, Teresa Mescher, Dallas Jones, and Maria A. Nagel. Dr. Nagel is a CU professor of neurology and immunology and partners with CU Innovations to bring her anti-shingles virus treatments to patients.
Categories:
CU Innovations

|
Tags:
claudin-1
E-cadherin
interleukin 6
Journal of Infectious Diseases
N-cadherin
perineurial cells
research
shingles virus
viruses
vricella zoster virus