CU System Ranks As One Of Top 50 Most Innovative Institutions In The World
Reuters 2019 Most Innovative List Shows Rising Ranking and Innovation Growth for CU
Rolfe Bautista | CU Innovations
Nov 1, 2019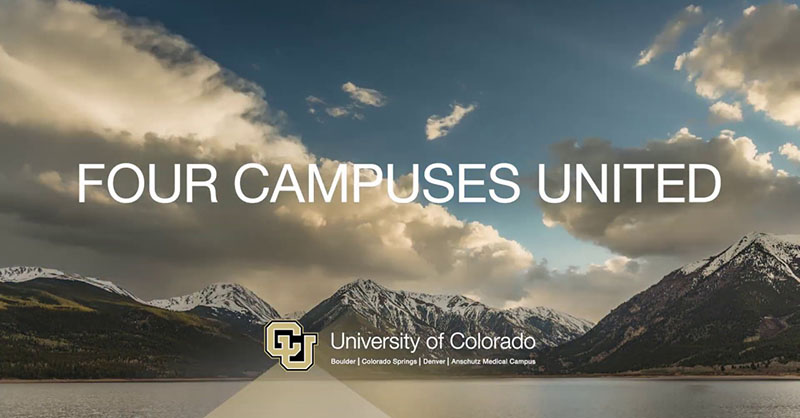 Reuters ranks the University of Colorado System as 33 in their 2019 list of most innovative universities in the world. The "World's Most Innovative Universities" list ranks educational institutions who conduct advance science and generate new technology inventions. According to Reuters the rankings are based on the influence university systems have on other researchers in academia and private industry, amount of patent filings, and the number of research paper citations.
The University of Colorado System climbed eight positions on the Reuters list from the 2018 ranking of 41. Reuters cites that the CU System was ranked as a whole due to how the separate university campuses in Aurora, Boulder, Colorado Springs, and Denver report innovations.



Reuters reports that, "in fiscal year 2018-19, CU received $1.2 billion in sponsored research awards, a 15.5% increase over the previous year and a system-wide record." Reuters also writes that over the past 25 years CU has helped launch 190 startups.
A combined total of 330 patents were filed by all CU campuses between 2012 and 2017. Pharmaceuticals and biotech was the highest percentage of patents filed at 27%. Agriculture, forestry & food came in second at 21%, followed by chemicals at 16%. Medical device & healthcare made up 10% of patents filed and computer software & internet were 5%. The remaining patents were categorized as "other" and accounted for 21% of filed patents.



According to data collected by Reuters, the United States ranks as the top country for amount of innovative universities. 46 US universities make up the Reuters Top 100 followed by Germany who has 9 academic institutions on the list.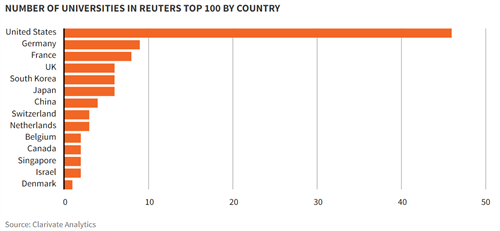 To create the Top 100 Reuters developed a methodology that accounted for the amount of published articles in scholarly journals cross referenced with the number of patents filed for an academic organization. Only academic institutions that filed 70 or more world patents were included for selection on the list.
Reuters based the final ranking on, "how often a university's patent applications were granted, how many patents were filed with global patent offices and local authorities and how often the university's patents were cited by others." During the ranking process Reuters said, "Universities were also evaluated in terms of how often their research papers were cited by patents and the percentage of articles that featured a co-author from industry."
View the list of 100 from Reuters
Tags:
2019
innovative
news
reuters