CPR News Asks, Are Colorado Health Care Workers Getting Flu Vaccines?
Bioethics and Humanities
Jan 21, 2020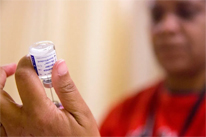 New rules from the Colorado Department of Public Health and Environment require that 90 percent of workers be vaccinated, but allowed exemptions for health reasons and left room for religious and other personal exemptions. Those who opted out had to wear masks.
In general, the rules have been a success, according to Dr. Matthew Wynia, the Director of the Center for Bioethics and Humanities, and an early supporter of the state regulations. "They found it to be extremely successful when you just tell people, 'Look you gotta do this,' then people do it," Wynia said.
But a 2017-2018 report shows only 60 percent of licensed health care facilities reported the numbers of workers vaccinated. And of those that reported, only 65 percent percent were in compliance with the vaccination requirements. Read full article.