Study: College football players underestimate risk of concussion
Atlanta Journal Constitution
Dec 29, 2020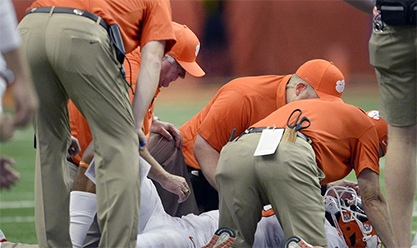 Christine Baugh, PhD, MPH,
and her co-authors surveyed 296 college football players from four teams in the Power 5 Conferences of the NCAA. They concluded, "That athletes underestimated their risk of concussion and injury in this study raises important ethical considerations. What is the threshold for college athletes to be sufficiently informed of the risks and benefits of football to make decisions that align with their values and preferences?"
Read article>>
Originally published in
JAMA Network Open.
Also appears in
Diverse Issues in Higher Education
.