The Quandary of Living & Dying in Qatar's COVID-19 Pandemic
Nezha Hamid | Palliative Care - Graduate School
Sep 1, 2020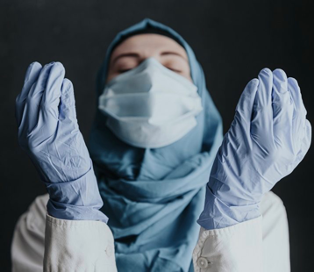 Ever since my college in Qatar made the sudden shift on March 10th 2020, to teaching entirely online under the strains of the Coronavirus Pandemic, I have been trapped at home working on a laptop in a small space, within a tall apartment tower located in the city center area of the capital city, Doha. I am learning to be an online college instructor and I am discovering that I am not fond of it. One of the ways I have dealt with being cooped up inside is taking little, short strolls in my neighborhood to break up the monotony of too much screen time.
Thank goodness the pandemic restrictions in Qatar have allowed me to venture out on daily walks in my skyscraper-rich, downtown neighborhood. The COVID-19 related surprises I have stumbled upon have been staggering. On one of my morning walks I visited the new tower I had been watching undergo construction from my bedroom window for more than two years. Newly opened for business, the beautiful hotel, which also offers long term apartment rentals, was oh-so inviting. The fresh cut flower arrangement in the grand entrance welcomed me with fragrant, ambrosial embraces.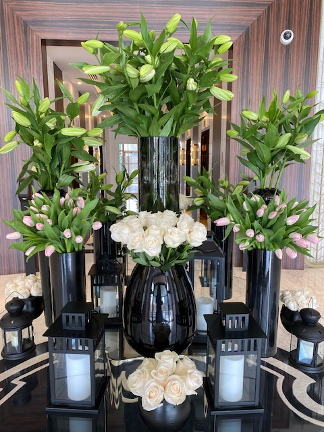 After Karl, the hotel manager from Vienna, Austria showed me the lovely, fully furnished apartments I thought to myself, "That's it. I am moving here for the next academic year." I want a dining room with a proper dining table and chairs that can serve as a work/study area which is light and bright and spacious, especially if I am going to be forced to work from home again in the new semester of Fall 2020.
The thought of moving apartments gave me something both exciting and daunting to think about. Before putting my energy and efforts into moving though, I must complete my Capstone project. The project had gotten stalled due to the need to survey the oncology nurses at Hamad Hospital, the largest government hospital in Qatar. I could no longer set foot on any one of their many branch campuses due to the Coronavirus Pandemic. In addition, my site manager at the hospital has been under tremendous stress and is often preoccupied or unavailable due to the pandemic. She is not able to disclose much about how the hospital is coping, yet I am curious about how medical staff are handling the COVID-19 patients and the deaths, in particular.
The challenge of managing the dead bodies according to Islamic law as well as Qatari burial traditions must be overwhelming. This made me wonder what would happen to me if I were to contract the virus and ultimately die as an expatriate in Qatar?
Though the number of COVID-19 deaths is relatively low in Qatar, dignity and respect of the deceased as well as the emotions of family members must remain a top priority. Also of critical importance is the safety and protection of the medical providers who are handling the bodies. Their lives must not be endangered. The current medical and scientific knowledge we have about the COVID-19 pandemic is far from complete. I still wonder how bodies of the deceased are being handled in Qatar, whether they're Muslim or non-Muslim. For me as a Muslim living in Qatar, what would I want done with my body if I were to become stricken with the COVID-19 virus and die here? How would my body be handled? My American citizenship and my Islamic faith seem to be in direct conflict with one another.
According the US Embassy in Qatar, CDC requirements for repatriating human remains to the USA depend on whether the body has been embalmed, cremated, or if the person died from a quarantinable, communicable disease. Being a Muslim myself, I would not want to be cremated or embalmed, as neither are allowed in Islam. According to the US Embassy in Qatar's official website, it states:
"At this time, COVID-19 is a quarantinable communicable disease in the United States and the remains must meet the standards for importation found in 42 Code of Federal Regulations Part 71.55 and may be cleared, released, and authorized for entry into the United States only under the following conditions:
· The remains are cremated OR
· The remains are properly embalmed and placed in a hermetically sealed casket; OR
· The remains accompanied by a permit issued by the CDC Director. The CDC permit (if applicable) must accompany the human remains at all times during shipment. Permits for the importation of the remains of a person known or suspected to have died from a quarantinable communicable disease may be obtained through the CDC Division of Global Migration and Quarantine by calling CDC Emergency Operations Center at 770-488-7100 or emailing dgmqpolicyoffice@cdc.gov."
The US Embassy website goes on to explain that Qatar is a traditionally Islamic country and that Hamad Hospital is the only mortuary in the country, therefore Qatari law must be applied. The mortuary is free of charge, no matter how long the remains are kept there. The hospital will make all the necessary arrangements for preparing the body according to the religion of the deceased, but also in keeping with local, Qatari customs. All burials for both Muslims and non-Muslims usually happen within 24 hours of the time of death, but in the case of repatriation it can take much longer. If the body is to be repatriated, embalming can occur for remains which will be repatriated from Qatar. This is done free of charge and is usually done 24 hours before the body is to be shipped. For transporting COVID-19 remains, the WHO website states, "Embalming is not recommended to avoid excessive manipulation of the body." When transporting human remains out of the country of Qatar, the body is first embalmed (since it might not be buried within 24 hours) and then placed in a zinc-lined, hermetically sealed casket. Cremation is neither offered nor permitted in Qatar.
Approaching this as a Palliative Care Community specialist, whose aim is to help patients and families navigate end-of-life issues, if I were to succumb to COVID-19 as an expat living in Qatar, here are my options:
For local burial in Qatar, the cost for Muslims is $100.00 for the unstitched muslin type of fabric often used to shroud the body. The government of Qatar provides all services and facilities free of charge to Muslims buried in Qatar.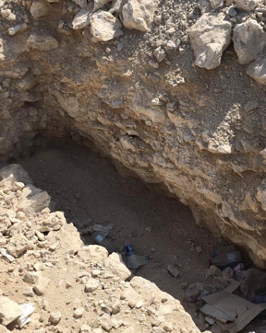 For non-Muslims who would like to be buried in Qatar, the Qatari government will provide a gravesite at a different location, about 90 kilometers from the capital city of Doha, free of charge. The grave must be dug and casket purchased, which can cost approximately $1,500.00 depending on individual preferences. Usually, the Qatari employer or sponsor of the deceased will absorb these costs. The cost of shipping a standard coffin is around $4,000 - $5,000 USD and the airfreight charges depend on the airline and the exact destination. Most airlines use a standard formula of 150 kg weight to calculate the cost of shipping human remains. From Doha (DOH) to Dallas (DFW), it would cost around $6,000.00 to ship a body.
I wouldn't want my body to become airfreight, flown in a casket half-way around the world. I think that would be a hardship; a trauma for a dead body to endure. This means that I guess I would prefer to be buried in Qatar.
What a quandary.
Six weeks into the lockdown in Qatar, I once again ventured out of my restricting confines for an evening walk after a long day of teaching online from my living room sofa. I thought I would visit my future beautiful, spacious new apartment to gaze at the office desk in the master suite and once again see the dining table surface which will allow me to actually try to enjoy working from home. As I walked near the towering, all glass building that would soon become my new residence, I was eager to see the new, freshly cut flower arrangement of the day, waiting to greet me. Instead I saw a police SUV parked in front, blocking access to the main entrance. Two police officers were standing on both sides of the main revolving glass door. Three ambulances were also in the front, waiting and ready to spring into action at any moment. Confused, I tried to approach the building as I have done five or six times in the last one month. A male nurse wearing scrubs quickly came out of the building towards me and asked if he could help me.
I told him that I came to speak with Mr. Karl, the Hotel Manager.
The nurse replied, "Mr. Karl can be contacted by phone only, Madame. This hotel has been converted by the government of Qatar into a COVID-19 patient unit."
I said, "Well, I was planning to move into this building as an apartment tenant in September."
The soft-spoken Pilipino gentleman said somberly, "I am sorry Madame. This building will be occupied by Qatari COVID-19 patients who must quarantine under strict supervision, probably for the rest of this year if not longer. We have no choice, Madame. It is government mandated and regulated. This hotel facility will not be welcoming guests or tenants until further notice."
Totally shocked, I backed away slowly. I then walked home in a parched daze. I wandered around aimlessly, looking for a new ambling route or a new apartment building that hasn't been converted into a COVID-19 hospital. I needed a new plan. It felt like all of my current plans were crumbling, disintegrating to dust…
just like the bodies buried in the chalky desert sands of Qatar.