Reflections on Compassion Fatigue and Helping the Helpers
Loren Steinfeldt, MSPC
Nov 10, 2020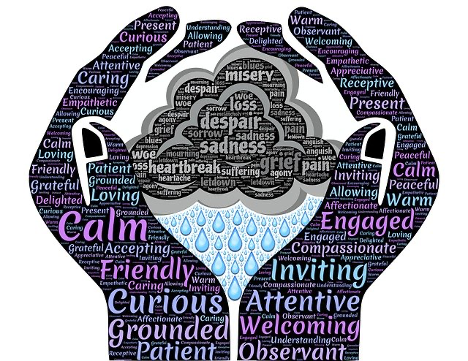 I find myself reflecting on the concept of compassion fatigue a lot these days. It's not exactly out-of-the-blue. We just had a lesson on it by Melissa Palmer, LCSW, ACHP-SW, APHSW-C, JD. In the time of COVID-19, during a pandemic, it has become increasingly part of life for many healthcare workers. Those most affected are those in the 'hot spots' where there are high numbers of patients and not enough resources, both in terms of people and medical supplies and equipment. For the rest of us, it is on our minds as we see the news, the politics, the revisions in requirements and data, as we are all learning about this novel disease and its effects. It is exhausting mentally, and for those amid the worst hit areas, exhausting physically and emotionally. I have watched largely from the sidelines, being in Missouri where we have not had high numbers of cases. Through social media, I joined groups of healthcare professionals talking about it, seeing the lists of health professionals who have died after contracting the disease from the patients for whom they cared; and the ones who, so overwhelmed, took their own lives. The numbers are both breathtaking and heartbreaking.
I learned about compassion fatigue first in my volunteer work in animal rescue, where there is a high prevalence. As in healthcare, those in animal rescue are not dealing with the well and normal for the most part. We deal with abandoned, neglected, and abused animals. Sometimes they are in horrible condition physically as well as from horrible living conditions. Sometimes, no amount of love and care can save them. Sometimes there is not enough money, not enough supplies, not enough people to help. You save one animal and give it the happy ending it deserves, but you can't help thinking of the hundreds more you could not. You learn about the places where people just don't care or are uneducated about animal welfare, and you know you will never be able to change them all. Rescue workers start to feel helpless and hopeless, overwhelmed by the numbers, the losses. They start to think they cannot continue to put themselves out there, cannot deal with the pain any longer. With no escape from the psychological pain they feel, some take the ultimate out. Some leave rescue work. Some continue but develop a cynical protective shell. I always thought I was immune to it, had an endless reserve of empathy, compassion, and energy. One night I was on social media, and the organization for whom I would later volunteer had posted a horrific video with no warning of its graphic content. I was caught off guard as I watched an undercover video of the fur trade. It was my breaking point. I became overwhelmed with grief and horror. I cried, a heartbroken sobbing; I rarely cry. As the days passed, I went through my routine with a hopelessness, as if I were seeing the world through a dark lens, as if the sun had dimmed on all of life. Eventually, I came out of it; I found the tools to create healthy boundaries and positive habits that replenished my psyche. I had so much therapy in my youth, I thought I had all the tools down; but I was unprepared for this particular struggle. In my own struggle, I learned the compassion I hadn't had before for others dealing with compassion fatigue, each in their own way.
Now in this Palliative Care program, I have been so heartened by the fact that resilience is built in, that we are taught that self-care is not only okay but necessary if we are to be able to give the empathic care to our patients that is needed. Not only that, but we are given the tools by which to do so. So, it has brought me to this: if we are learning to be experts, not just in palliative care, but resilience in the face of loss and grief, who better to help other health professionals who are lacking these tools? Especially now, during a pandemic the like of which has not been seen in generations, those who can help the helpers deal with overwhelming feelings are needed. Of course, I realize that adding this to the to-do list of many palliative care specialists, who may be overwhelmed and under-resourced themselves, may be unrealistic. I am not necessarily suggesting a whole new program-yet! I am thinking more in terms of little things. Our colleague, Misty Lahti, created a resilience room at her hospital. Several people who are in healthcare have made it a point to share the names and stories of those lost, so that while we feel sorrow, we honor their legacy. Personally, I have always found that in providing tools to others, talking through, and processing their pain with them, I learn and heal as well. Sometimes I make realizations that never occurred to me before and find myself benefitting as much as those I'm trying to help. Therefore, helping our non-palliative colleagues deal with their compassion fatigue might serve to strengthen us in our own practice. Reminding colleagues of their accomplishments when they can only see the negative might help us to refocus. A one-on-one talk with someone about how to focus their empathy by leaving their work at the front door, so they can go home and be involved with and enjoy their family can help us to think about ways to do so ourselves.
We as Palliative Care Specialists have all the tools to help ourselves with compassion fatigue. I am convinced we are uniquely suited to use our knowledge to help others in healthcare. Even if we cannot lead the way, we can approach those in leadership. They may already be looking for ideas that we can provide. Lastly, I believe that in this unprecedented time, we need to find ways to so.