Parting Gifts
Lynne Yancey, MD
Mar 21, 2023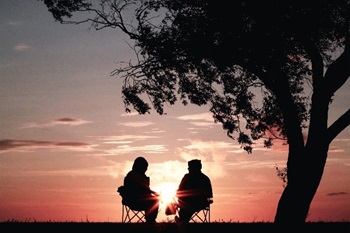 A faded photo sits on my desk. It used to be tacked to a corkboard in my Dad's workshop. In it, a sixteen-year-old girl wears a camouflage jacket and a wool ski cap. She crouches in a patch of snow, holding her rifle in one hand, and one of the horns of a large bull elk in the other. My dad took that photo. We spent an hour field dressing the animal, as he showed me its internal anatomy in careful detail. We carried home enough meat to last all winter. Later, he mounted the horns for me and hung them in our home.
I didn't have much interest in hunting for its own sake. I just wanted to do something that would let me spend time alone with my dad. Something he loved, but something my sister and brother didn't want to do. So I took the required hunter safety class, and we put into the lottery for elk permits that fall. Dad was terribly proud, showing that picture to his friends, pointing out how I dropped the animal quickly from a single shot.
My dad was always stubbornly strong, immeasurably resilient, almost larger than life. He lived for 50 years with a heart condition that was supposed to have killed him when I was seven years old. He underwent three heart surgeries through the years and survived countless complications, including hepatitis C, an embolic stroke, sepsis, and life-threatening bleeds from anticoagulation. Each time he teetered on the brink of death, he clawed his way back. He continued to hunt and fish. He found new passions, learned new skills, and reinvented himself over several new careers. I got used to the idea that Dad was invincible.
But no matter how strong his spirit, his battered heart eventually began to give out. In his 70's, Dad developed steadily worsening congestive heart failure. I began to make the trip from Denver to south Texas more and more frequently, knowing that his time was growing short. At a family gathering near the end of summer, he became terrifyingly short of breath. In the ICU, with BiPAP forcing air into his lungs, he told Mom and me he would rather die than feel like he was drowning again. We promised him we would make sure he didn't have to feel that sense of suffocation. He agreed to a palliative care consult. Within a few weeks, he was on home hospice care. Each time I called, he sounded more weak and tired. At our final phone call, he handed the phone to Mom, too exhausted to speak.
Two days after that phone call, I talked with my brother and my sister. Dad had become delirious, and the hospice staff had sedated him. I left work and booked the next flight to San Antonio. As I put my phone on airplane mode, I steeled myself for the idea that when I landed, he might already be gone. The one-hour drive from the airport to my parents' ranch was long and tense. As I entered the house, I could hear Dad's wet, rattly breathing from the hospital bed in the guest bedroom. He wasn't gone yet. He didn't respond to my voice or the squeeze of my hand, but his hands and feet were warm, and his pulse was strong. I reviewed his medications. He had gotten only one small dose of glycopyrrolate, so I gave him a second dose. It did nothing to change his breathing, but it helped me breathe better. The family huddled. We agreed to take shifts. I would take the first watch. Mom's exhaustion was evident, but she hesitated to leave, fussing over the medications at his bedside. She had been awake since 5 am. It was now nearly midnight. Finally, she kissed Dad's forehead and stroked his face one more time before she went to lie down. Dad and I were left alone. I took his hand again. Memories tumbled through my mind. Family camping trips. Cutting down Christmas trees and coming home to drink hot apple cider. The hunting trip when I was sixteen. Dad hugging me, crying, when I graduated from medical school. Dad pulling aside my soon-to-be-husband for a talk right before our wedding ceremony. His delight as he held each of his newborn granddaughters in the delivery room. Me holding his hand as he lay in the hospital during one of the countless admissions over the years, as he tried to put on a cheerful face for nurses or visitors, when he felt miserable.
Dad's breathing got shallower. His hand was still warm, but now I struggled to find his pulse. I started to sing Amazing Grace. His favorite hymn. One last small, sighing breath. By the time I stopped singing three verses later, his chest was still.
Tears washed over me. Grief. Relief. No more suffering. I knew I should go wake the family. But I could hear his voice clearly, telling me to let Mom sleep. And I wanted this one last moment with him, while his hand was still warm in mine. So I stayed, holding his hand, until it began to cool. My final gift to Dad was to ensure that his symptoms were managed, and that his wife of 61 years got some much needed sleep. She did not have to watch him die, and he did not have to die alone. I held his hand, gave him permission to go, and sang him on his way. Dad's final gift to me was to wait for me to get home before he died. I took great comfort in being there to see for myself that he didn't feel like he was drowning, and took comfort in knowing that if he were to develop any frightening symptoms, I would be there to manage them. And, we shared the final few moments of his life together. Alone, just me and him. One last time.