Opening to the Light
Rev. Rachel Chang, MDiv
Jan 5, 2021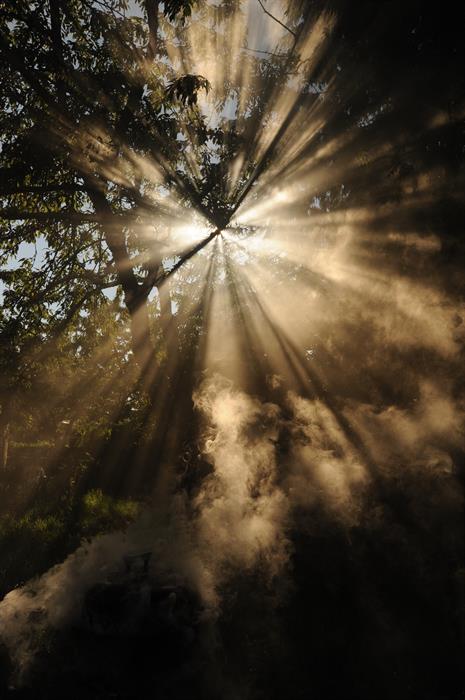 I cannot tell you
how the light comes…
These are the opening lines of a blessing by Jan Richardson in Circle of Grace: A Book of Blessings for the Seasons. Richardson's book has been a frequent traveling companion for me as a hospital chaplain, and I have shared this particular blessing with numerous patients and family members. I have also reflected on this blessing internally and within my family when we have had our own griefwork to do.
When we are in the midst of darkness and unknowing, it is hard to imagine the light. Our eyes ache with the strain of seeking and the world itself is weary with us. Each of us knows something of despair. This year, it seems to have enveloped us whole. And so, here and now, this blessing calls to us all. Beckons to us with a small flicker of hope.
I cannot tell you
how the light comes,
but that it does.
That it will.
That it works its way
into the deepest dark
that enfolds you,
though it may seem
long ages in coming
or arrive in a shape
you did not foresee.
We are crossing the threshold of a new year. Here in the Northern Hemisphere the sun is shining ever so slightly longer day by day. These natural phenomena, which in years past may have been overlooked for their very givenness, now carry the gift of grace. No matter what we may have done or left undone, no matter what we have experienced or endured—the year turns, the day lengthens, the light comes.
There is no magic in this emergence, nor an erasure of the past. We may want to put 2020 behind us, but it has inevitably left its mark on us as people, as professionals, as a society. Perhaps the coming year's light will be inadequate to fill the shape of absence; the indentation of all we have lost. And yet we may need its guidance—shadowy though it may still be—to walk forward at all.
And so
may we this day
turn ourselves toward it.
May we lift our faces
to let it find us.
May we bend our bodies
to follow the arc it makes.
May we open
and open more
and open still
to the blessed light
that comes.
A sunrise. A candle on the kitchen table. The dim glow of a breakroom at the end of the hall. The reconciliation of a relationship. The briefest of conversations that lifts the spirit enough to make it through another day. The holy moment that sees one life pass from this world and other lives begin the work of making peace. I cannot tell you how the light comes… May we open still.
Excerpts from: Jan Richardson, "How the Light Comes," in Circle of Grace: A Book of Blessings for the Seasons (Orlando: Wanton Gospeller Press, 2015), 59-60.
The blessing can also be read in full on the author's blog: http://adventdoor.com/2011/12/21/christmas-day-how-the-light-comes/
Rev. Rachel Chang is a former staff chaplain at the University of Colorado Hospital, where she trained for a year with the inpatient palliative care team and also taught a spiritual care module for the Master of Science in Palliative Care. She is currently focusing on the adventure of parenting her first child.