Future Tides
Blakely Winner, RN
Mar 14, 2023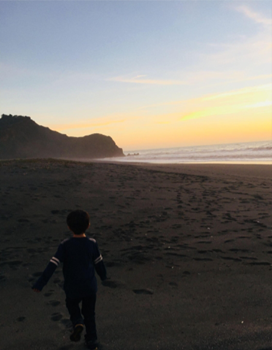 As a graduate student studying palliative care, I am optimistic about the field's future. I have seen firsthand the impact of palliative care on patients and families in my own community and am thrilled to see this medical subspecialty becoming more widely recognized for its value and significance. However, I have also observed the obstacles for progress in this field. I have witnessed the impact of the pandemic on medical staff, including burnout and apathy and have experienced the increased demands of our aging population. I can't help but worry about how we will manage to navigate the incoming tide. The large institutions and organizations will continue to do great work but how can I help ensure that those of us with limited resources and support in smaller or rural communities will keep up?
Before I enrolled in this program, I worked as an associate clinical instructor for nurses at my rural community college. This program had very limited instruction dedicated to palliative care topics such as end-of-life care, spirituality, and psychosocial distress. Earlier this week I engaged some current and former students (now new graduate nurses) to assess their comfort level with these topics. Most of them defer these difficult concerns to the experienced nurse, physician or specialist as they feel unprepared to answer such questions directly. I understood their rationale. Much of my own comfort in these areas progressed after a few years in patient care with supportive preceptors and experienced staff. What I found interesting was the student's limited understanding of palliative care, end-of-life care, and the support we provide. These fundamental topics are important across the patient care spectrum, independent of healthcare setting or nursing education level. I thought, rather hoped, that the theory of palliative care had become prevalent enough to reach these students. Maybe I was wrong.

I have seen recent promotions enticing people into nursing through a fast-track program where students can obtain a BSN in as little as 16 months. While I wholeheartedly agree that we need more nurses as soon as possible, I can't help but wonder if the best way to accomplish this is to rush through education. In order to develop engaged nurses we need to expand our efforts to promote the culture of palliative care within the whole workforce. It is already too easy to get swept up in the task-oriented pace of healthcare today. The documentation requirements alone have become such a burden to our limited patient engagement time. Palliative care is person-centered care, but isn't all healthcare? Or is that just a catchphrase to put on bulletin boards and advertisements? As palliative care professionals, we need to help our colleagues maintain a connection to the patients. We need to lead by example. In doing so, we can jumpstart a change in culture by enacting the principles we use to engage our patients. We can activate interest in our field by speaking openly about who we are and what we do. By practicing these values in an open and authentic way, we can more effectively promote palliative care to our communities and the entire healthcare industry in general. In the end, not only are we promoting human compassion and connection, but also a more holistic healthcare culture to benefit both our patients and our profession.