Virtual Reality, Baseball and Mental Health
May 1, 2017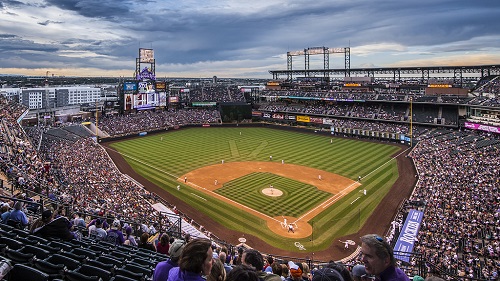 It's not every day that the University Chancellor takes a virtual reality spin around a major league baseball stadium and meditates for the first time. Not at the same time, of course. But both happened this morning as we peeked around the corner to see the future of mental health.
This happened when the team from Limbix, a Silicon Valley startup, visited NBHIC today to talk with leadership from the University of Colorado Anschutz Medical Campus and the NBHIC staff about technologies they are developing for mental health care. Their products – three distinct treatment tools for therapists in one platform — are in development: a patient app, a treatment management dashboard, and a virtual reality therapy platform.
Chancellor Don Elliman, University of Colorado Anschutz Medical Campus, was one of the participants who tried out the virtual reality demo.
"Virtual reality has the potential to be more effective for the patient than imaginative cognitive behavioral therapy," said Ben Lewis, co-founder and CEO of Limbix. "The therapists we've talked with are really excited about using technology in their practices."
In essence, Limbix's goal is to take the therapy that clinicians do and make it easier and faster.
Dr. Walter Greenleaf, a renowned expert and pioneer in the field of virtual reality in healthcare, explained the need to work within healthcare to get the technology right. "Great technology needs to be married to the workflow, science and economics of healthcare," he said.
Mimi McFaul, NBHIC Director of Digital Initiatives, agrees. She is partnering with Greenleaf, who joined the NBHIC staff in March, to lead the Center's work around emerging technologies that could transform mental health care.
"One of our roles at NBHIC is to help inform the strategy that will guide the tech companies in their development of products," McFaul said. "We can connect the dots among caregivers, patients, community needs and business partners. It's an amazing opportunity and the future is unfolding fast."
Categories:
Mental Health

|