NMHIC Recognized Internationally- Matt Vogl is well Received in China
Nov 1, 2018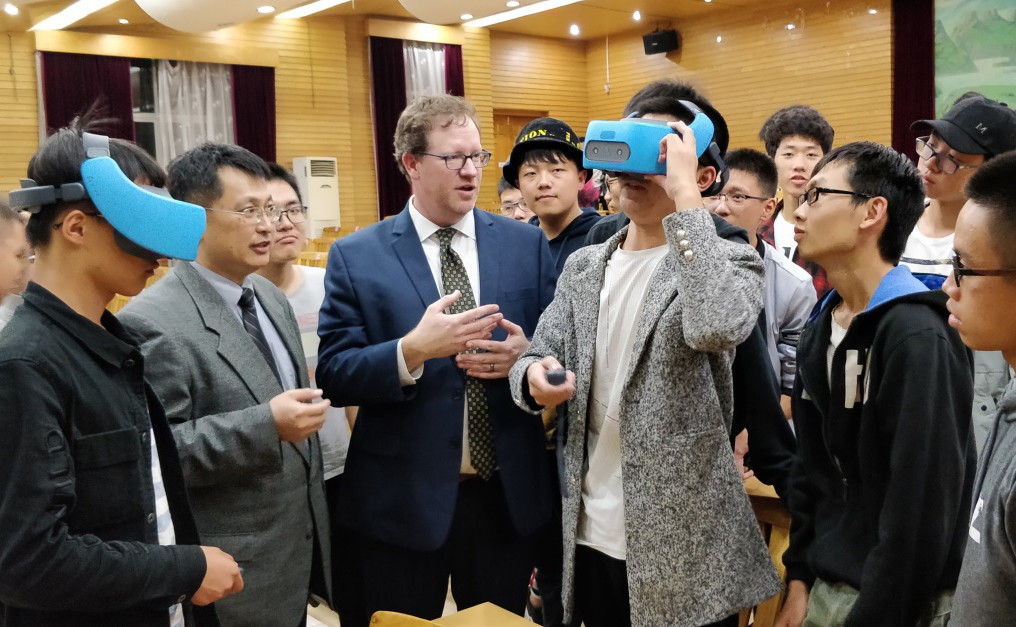 The number of individuals experiencing a mental illness in the US is overwhelming, and the National Mental Health Innovation Center (NMHIC), led by Executive Director Matt Vogl, is focused on improving mental health access and treatment through innovations, such as virtual reality (VR). In October, the importance of VR in mental health was underscored when Vogl traveled to Nanchang, Jiangxi Province, China, where he was invited to speak at the 2018 World Conference on VR Industry (WCVRI). The theme was "VR Makes the World Better." Nanchang (population 16 million) shut down, schools closed, and 160,000 individuals attended the conference. Chinese President Xi Jinping even appeared in a video stating China's commitment to VR.
While speaking at WCVRI about the evolving uses of VR in mental health, Vogl shared the spotlight with tech giants Jack Ma (CEO, Alibaba), Wei Sun (founder of VIVEDU), Wenchi Chen (CEO of VIA), Frank Meng (Chairman of Qualcomm China), and Noble laureate Dr. George F. Smoot. There was a tremendous amount of interest in using VR in medicine and mental health. At one point, event organizers had to turn away participants after Vogl spoke since there were too many questions to answer in the time allotted.
The use case for VR is well beyond video games at this point. The conference focused on areas such as education, healthcare, architecture/design, retail, firefighting, and industrial training. You could even attend a lecture via a virtual classroom developed by VIVEDU, a company focused on education and mental health applications. An architecture exhibit allowed visitors to walk through an architectural building concept to make comments or changes long before a building was actually constructed. Audi demoed their cars in the retail exhibit, and numerous healthcare demos featured things such as anatomy instruction platforms.
Beyond the conference, Vogl had the opportunity to speak at Guangxi University of Science and Technology in Liuzhou, and for tech employees and academics in Chengdu. At Guangxi University, students in the university's Virtual Reality program discussed the state of the VR industry and barriers in adoption of the technology. In Chengdu, at the headquarters of VIVEDU, a subsidiary of HTC/VIVE, Vogl discussed the NMHIC's Tech Innovation Network (TIN) and how it works as a vehicle to ensure that mental health VR is developed in a way that is driven by the needs and input of providers and patients.
The adoption of VR in China, compared to the US, is staggeringly different. VR is everywhere, being used in schools, businesses, and medical settings across the country. At schools across China, VR is becoming a mainstream teaching tool. Vogl observed schools where every student had a VR headset and used it daily to learn everything from biology to computer programming. VR use and content creation was deeply integrated into the very basics of education. In the coming years, as the US moves to make mental health uses of VR more mainstream, we will continue to look to partners in China to understand the integration and scalability of VR.
Categories:
Mental Health

|